I must have the next Black Dagger Brotherhood book. Like
now
. Because Rehvenge is my favorite. Why do I have to wait until Tuesday? Why can't some unsuspecting bookstore stick it out on the shelf today instead of following the rules?
I've been in a not-so-bad mood about work for the past few days. Payroll Girl found another job. She's been hitting the job search hard for about four weeks now, and finally found something on the base. I'm happy for her because she wanted out much more than I did. She's planning on giving notice this coming week. I'm questioning whether I want to give up my comfy job for another where I most likely won't have the perks I have now. Despite the drama-llama, I have it pretty damn easy. Where else can you openly play computer games and read books without getting reprimanded, you know? So, whatever... I'm still half-assing the job search.
During my hour-long walk yesterday, this happened...
What the crap? Seriously? I was just out for an hour. ::shakes fist at sun::
Also, during the walk I developed a playlist in my head of super awesome songs to take a stroll to on a nice spring day. Have a mix CD of this scrumptious songs...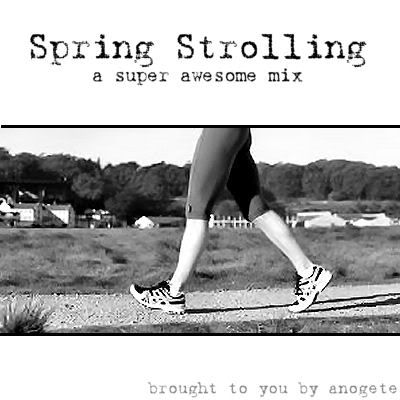 01. That's Not My Name (The Ting Tings)
02. Something Is Not Right With Me (Cold War Kids)
03. Crooked Crown (The Anniversary)
04. Morning's Eleven (The Magic Numbers)
05. Tight Tee Shirt (Benji Hughes)
06. Smoke Detector (Rilo Kiley)
07. I'ma Be Alright (Robin Thicke)
08. Damn Girl (Justin Timberlake)
09. Fun For Me (Moloko)
10. Golden Radical (Call Me Lightning)
11. 66 (Afghan Whigs)
12. Vivrant Thing (Q-Tip)
13. Shake It (Metro Station)
14. Beverly Hills (Weezer)
15. Do the Whirlwind (Architecture in Helsinki)
DOWNLOAD the zip file with all the songs HERE
Many of the songs are quite rhythmic, which I find excellent for walking. Stick them on your favorite MP3 player and strut down the streets of your neighborhood. Just remember to wear sunscreen.